Yes, there is plenty of excitement here as I plan for next season driving Twig Zeigler's Nitro Funny Car.
The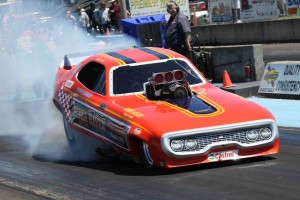 continued support I receive from my existing sponsors and supporters is wonderful, and we have some opportunities to include others into this program.If you want to be a part of this feel free to send me a note at jim@jimobalek.com and we can discuss the opportunities available, and how they can be custom tailored.
In the meantime, over the coming months besides creating and finalizing details for marketing programs I will have the car in the shop freshening it up for next season and tweaking the controls to fit me perfectly. I'll post some photos of the work as it progresses.
Yes, the rumors are true, I will be driving a Nitro Funny Car next season!
Not just any old nitro car though, but the best known and currently one of the world's quickest Nostalgia Nitro Funny Cars!
I am very proud to say that Twig Zeigler has chosen me to wheel his Funny Car for the 2012 season.
This is a wonderful opportunity for me as a driver, everything is right about this program; the car is beautiful and very high profile, it has only the best parts, with plenty of spares, the car performs at the top of it's class, and Twig is a true gentleman with 42 years of nitro racing experience to draw upon. It doesn't get any better.
I encourage you to venture over to the Twig Zeigler Website and have a look around to learn more about the history of this fabulous car and team owner.
Our 2012 schedule is still being finalized, but the plan is to start our Northwest tour with the NAPA Auto Parts Ignitor in Boise Idaho at the end of April. From there we intend to visit Mission BC, Edmonton Alberta, Spokane, and Yakima Washington, Woodburn Oregon, and closing the season in Bakersfield for the California Hot Rod Reunion in October.
I would like to take this opportunity to thank Tom and Debby Cook, of CV Transport. Their support over the years has made it possible for me to be in this position to drive such a high quality race car, at such a high level of competition. As I have always said about my sponsors, it is about building the relationship for the long term, and my relationship with Tom and Debby of CV Transport is a perfect example of this. This past season has seen Tom evolve into a racer in his own right, and Debby has also won some rounds, I am proud to have been a part of their successes, and we've had some great times at the track this year. I look forward to continuing our relationship, and having many more great times with them for many years to come.
Check back here often over the winter while I keep everyone updated on the preparations for the coming season of excitement!