http://www.dragracingonline.com/raceresults/2012/xiv_5-ignitor-1.html
Local Sports
Obalek feeding his a passion for speed
- Gibsons Jim Obalek won The Wally, drag racing's most sought after trophy with a recent race win in Ashcroft. – Photo submitted
Photo submitted
Gibsons Jim Obalek won The Wally, drag racing's most sought after trophy with a recent race win in Ashcroft.
Ian Jacques/Editor
posted: August 7, 2009
Sechelt – At just over one foot tall with a classy brass finish, he stands on a solid wooden platform and is the most sought after man in the world of National Hot Rod Association (NHRA) full throttle drag racing. He is elusive and only the very best can catch him.
Recently, Gibsons' Jim Obalek became the very best and caught that elusive and prestigious prize.
The Wally is named in honour of late NHRA founder Wally Parks by the thousands of NHRA competitors who seek it. Winning the Wally, which Obalek described as drag racing's Oscar, was a dream come true. He won the Wally at a recent race in Ashcroft, a track that has a special place in his heart.
"It's a tough event to win because the best come out and everyone wants to win," Obalek said. "In the drag racing world, it's the ultimate trophy. We worked so hard for it and to take it home is really special. The folks up in Ashcroft treat me really nicely, so to win it at their track felt really good."
Obalek also had his daughter Casey on hand for the win, which was also a proud moment.
"Casey has as much passion for the sport as I do. She's done a lot to help with the car and my racing. To have her there and share in that moment meant a lot," he said.
From the moment he saw his first race, Obalek knew he would do what he had to do to get in the driver's seat. His deeply-rooted passion is what drives him to be the very best driver he can.
At the age of 16 he received his driver's licence and moved to Australia where he worked in a shop specializing in race engines. He began crewing for different race teams before branching out into his own race shop. He prepared cars and engines for racing and was finally able to build his first race car: a 12-second Sedan. Racing the Sedan for a few years, he then upgraded to a nine-second Altered. Meanwhile, he had begun building complete race cars from the ground up. He was able to get involved with some top fuel teams in Australia and was slated to drive the NEC top fuel dragster, but lack of funding put the project to an end. Shortly after, he moved to Gibsons to raise his family. He's been living on and off on the Sunshine Coast for the past 12 years.
In 2007 he reignited his passion for the sport and took off full throttle in search of a world championship.
"Casey was about to graduate, and it just felt like it was a good time to get back into racing and pursue this with 100 per cent commitment," he said. "Once racing is in your blood, it never goes away. Although I took a break for a few years, I always knew I was going to return and begin the chase for a world championship."
Obalek travelled back and forth to Florida to gain seat time and reacquire his competition licences. Working with Frank Hawley, known as the best drag race driving instructor in the world, he earned his licence in both top alcohol dragster and top alcohol funny car.
He is now driving a front engine dragster for Dennis Hicks in the Nostalgia series.
"Things with this new car have been going great," he said. "We have a fantastic car and a fantastic team with Dennis. We've just started to step up the engine program and the goal is to maybe race with three different cars next season depending on sponsorship and funding."
Last weekend the team was at Mission Raceway testing the car. On Aug. 22, Obalek and the team is in Ashcroft again for the third and final race in the Blown Alcohol series. Obalek is first in the standings and is one winning round away from winning that series.
Last on the calendar is a stop in Bakersfield, Calif. in October bringing the season to an end.
"Our season is almost over, but we're certainly getting things going for next year," he said. "The sky's the limit and I'm really excited with what we've been able to accomplish and what we hope to accomplish going forward. There is a passion for these things. You just live and breathe it. Everything about drag racing is very satisfying. I get to meet great people, build cars and travel the world. I'm living the dream."
Speedzone Magazine Online Nostalgia Zone
Source: www.speedzonemagazine.com
A wild weekend at the Plex, as there was a little bit of everything by way of weather, racing excitement and something a little bit unexpected.
Read More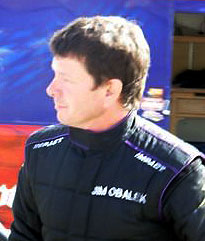 The fellow building it is a big part of this story. Jim Obalek (photo left) is best known locally as the driver who was behind the wheel of Dennis Hicks' blown alky slingshot when it stood up large at Eagle last season. He has spent some years down under in Australia, wants to use this car to showcase his building skills all the while helping the alky teams of Hugh Ridley and Keeter Ray. His major goal however is to drive, and if he keeps on going the route he is, Obalek will most likely make that a reality.
The '68 Camaro will be a full legal Pro Mod piece, but will start off with a mild huffed iron block 468 that is expected to run mid sevens. "I still need to get my my Advanced ET license" says Kingsley, who has high praise for his builder. "Jim will have built this car from start to finish. Every last detail from the first tube to the last spray of paint is his workmanship. Not only the build but the engine assembly, tune up, all the suspension, steering geometry, every aspect of a brand new build."
Whiles it's nice to have such a talented guy close to home to handle all that, there's more to Kingsley's race 'team'. His family including wife Gina, son Colton and daughter Jessica play a major role in the 'fun' weekends away racing. As does a lady he calls perhaps his biggest supporter, though it wasn't always that way.
"My mother Anne Elliott was terrified the first time I raced about three years. Now she loves its, came to every race last year and will forever." Without the support of his family Kinglsey says he "would not be living the dream right now." Proof yet again that this is a family sport few others can match.
He also thanks the people of the Eagle Motorplex. "Since the first day I dragged my car up to Ashcroft, the help and support I got from not only the track staff, but my fellow racers to this day blows me away. The crew up there is one of the reasons I got hooked so bad on drag racing."
Kinglsey operates S.K. Automotive in sunny Sechelt (5546 Inlet Ave (604) 885-2375), and with so much positive enthusiasm we can't wait to see Simon go faster!