It is with regret that I announce I will no longer be driving for Twig Zeigler. This is very disappointing as plans were underway to make a serious assault on the points in the NHRA Hot Rod Heritage series next year.
Jim obalek Drag Racing
Custom Fab Shop
Unit 18, Raceway Park
32929 Mission Way
Mission, BC  V2V 6E4
SHOP: 604.814.1320
CELL: 778.246.1320
Jim@JimObalek.com
 ~Located in Mission, Across from the Racetrack~
Suspension Design, Set-Up, Tuning & Scaling
Specialized Welding & Machining
Chassis Modifications & Upgrades
Chassis design and Manufacture… Jr. Dragster to Top Fuel …
Custom Tanks: Oil, Fuel, & more
Restoration: Cars, Boats, Motorcycles…
Custom, Unique Teardrop Trailers
Special Projects by Consultation
Driver Training & Coaching
~With 32 years in the Drag Racing Industry, Jim Obalek is both a winning driver and a highly skilled engineer and builder of custom race cars & components, from design and build of the chassis to the finishing details that complete the car.
~Custom Fabrication Shop located in Mission, across from Mission Raceway Park.
~Thinking of upgrading or changing your car? Car not performing how you want it to? Jim's proven ability to help drivers choose a successful combination will get your car to hook up & perform.
Customer Testimonials:
"After Jim worked on my suspension and provided me with key tuning advice, I've hooked better than ever, and at any track I go to. That consistency was key in winning my 2nd Division 6 Championship. His expertise in tuning a chassis will get any car down the track."
~Andy Closkey, NHRA / IHRA Div. 6 Champion
~
"We have been using Jim Obalek as our go to guy for all our Mechanical, Fabrication, Tuning and simple advice on all parts of our program.  I run a low 10sec bracket car and I'm currently #1 at Mission Raceway. I partly thank Jim for that!
I had to go to Spokane for a Div. 6 race where I needed an oil retaining device. Jim had no notice, like always from us. Jim got the job done. He created a beautiful design and had the car loaded up and ready to go! That's what I like about Jim! Not only does he do beautiful work, but he is there for us 24hr a day! Jim is a racer himself so he understands the needs of the racer!"
~Curtis and Dennis Munson, Valhalla Racing
2006 Div. 6 Pro Champion
2007 National Open Champion
Jim Obalek Drag Racing
Custom Fab Shop
Unit 18, Raceway Park
32929 Mission Way, Mission BC
Phone: 604.814.1320 ~ Cell: 778.246.1320
www.jimobalek.tel
jim@jimobalek.com
Facebook: Jim Obalek Racing ~ Twitter.com/jimobalek
This season I have the honour of driving Twig Zeigler's famous "Pizza Haven" Nitro Nostalgia Funny car.  We are having a fabulous season! To date we have run in Boise, Las Vegas, Ashcroft, and this past weekend we had a stellar performance in Edmonton, where we top-qualified, set a track record, and took runner-up position in the final round against Tim Boychuk. We posted regular updates and photos from the race track in Edmonton here so you can stay connected and follow my racing in real time.
Next weekend, July 21-22, I will be competing locally in Mission at the Lucas Oil NHRA Canadian National Open event at Mission Raceway Park, featuring Nostalgia Nitro Funny Cars and this season's heavy hitters. This event is an excellent opportunity to experience the raw brute force of nitro-methane powered race cars … these are some of the loudest, most powerful, exhilarating race cars around.  They are hard to believe or understand until you have felt them run, and believe me, you do feel them run!
I would love see you at the event next weekend and know that you had a great time! One of the best aspects of drag racing is that your entry includes a "pit pass," so you can walk through the team pits, see the cars and teams up close and personal, and meet and speak to the drivers. You are not limited to the grandstand seating.  Drag racing is a very family-oriented event, so you can bring the kids & grand kids! Kids 12 and under get free admission. There's a great concession stand so you don't have to pack a lunch unless you want to, and there are clean, regular washrooms.  Parking is free at Mission Raceway.
This is my last local race of the season, so please plan on attending if you can. My team pit and race car will be easy to find.  Come on by and say hi, pick up an autographed hero card, and get your picture taken with me and the race car! I am passionate about drag racing and making sure you, the race fan, have a fabulous time at the track!
I look forward to seeing you at the event!
Sincerely,
Jim Obalek
Directions to Mission Raceway here.
Event details here.
I am pretty excited, and proud, to be a part of the Eagle Motorplex 25th Anniversary celebrations this long weekend in Ashcroft.
It was finally organized on Monday night that I will be doing two passes in Twig Zeigler's Nitro Funny car on Saturday night.
It is a wonderful group of people, friends, in Ashcroft and I can't wait to be back there this weekend.
Come on out, be sure to say hello, and enjoy the action.
I see Vancouver is holding a "Car Free Day" on June 17th.
http://www.carfreevancouver.org/
What should a race car driver do to celebrate(?) such a day?
I'd love to hear your ideas, head over to my Facebook page and post them there.
I wrote a little about a BNAC water based solvent here.
It's an amazing product that anyone who uses traditional solvents will want to know about and use.
I was happy with that. Twig was happy, everyone was happy.
There were three what ifs that haunted me all winter.
The clutch; I had never driven a crowerglide clutch before. I knew how they worked, I had rebuilt them and even set a couple up over the years. I had absolutely no idea what it was going to feel like under my foot. I know what a pedal clutch in an alcohol car feels like, and I know how hard it is to hold that pedal in on the line at six thousand rpm, and I also know how hard I have to pull on the brake to hold an alcohol car on the line a six grand, A LOT! (I'm only 135lbs soaking wet). So the crowerglide should be simple, prestage, highside the motor and take my foot off the clutch pedal to load the motor. Simple. But what if I can't pull on the brake hard enough to hold it on the line? How hard will the motor pull against the brake? I had no idea, none at all. I'm sure it will be fine, but what if. . .
Ok, that was easy, turns out the motor barely moves the car at idle with my foot off the clutch, good, that was easy. Backing up was another story. This took a couple times to get used to it. I'm used to feathering the clutch, and dragging the brake to control the speed backing up in an alcohol car, steering with one hand. This car hates to be steered in reverse with one hand, (remember I am small of stature), but, once I learned that I don't have to drag the brake to control the speed and now I can steer with both hands in reverse it's real easy.
Got it, the clutch haunting has ceased!
The other thing that haunted me over the winter was the shifter. This car has a manual Lenco two speed in it, not shifted with air buttons on the wheel, but I have to reach down between my legs and pull a lever. It's a big pull, and well, I may have mentioned before I'm not a big guy. It's not that it's hard to pull, that wasn't my concern, my concern was that because I had to pull with some force I may steer the car while pulling the lever. I did not want to do that. Long story shortened: I didn't, it was easy and felt incredibly natural, in fact I am now more comfortable shifting with a lever than with a button on the wheel.
That only leaves number three.
The third thing that haunted me all winter.
This car runs on Nitro.
Now this didn't haunt me so much as I was just keenly aware of it. I had never driven a car on Nitro before. I knew it would be louder, I knew it pull on the top end harder, but so do the jet cars so that didn't worry me at all. It was merely "different" and I didn't know how different it was going to be until I had done it. It was the not knowing that haunted me.
How can I explain it?
At the risk of oversimplifying the whole experience, the best description I can give is that it "thunders" down the track. You can almost feel every cylinder fire pushing the car ahead. In comparison, the alcohol cars, are smooth, (when they don't shake the tires), this car just grabs hold of the track and pushes with all it's might.  If you ride motorcycles this car is like a big  cubic inch low rpm four stroke, compared to the alcohol cars which would be more like a smaller two stroke, high winding screamer.
The best part though. After eight months of  "but what if"'s, and a whole lifetime of wanting to drive nitro funny cars, the best part to me was just how right at home I felt in the car. How completely natural it all feels and that I didn't leave that first race thinking to myself that it is going to take me a while to get used to this. Driving Twig Zeigler's Nitro Funny car simply feels right.
A huge part of how good it all feels is how well Twig and the whole crew prepare the car. Twig gave me a tune up that gets the car down the track without fighting it. The crew is so smooth and polished I don't need to worry about anything being missed or overlooked. Their startline procedure is so well choreographed that my whole process of burnout, backing up and staging is easy.  Thank you Twig.
Duane, Connie, Kim, Aaron, and Rick, Thank you guys for being so good at what you do. I've said it before, you make me look good.
And thank you to my personal crew, my daughter Casey, and my partner Rebecca, for your support and all the little things you do for me that make such a huge difference to my world, not only at the track, but every day.
Eight Months long.
Thankfully I was able to spend some time at Twigs shop where we dismantled the car completely. He then brought the car up to my shop where I did a few minor chassis repairs, and replaced all the tinwork. And most importantly adjusted all the controls to fit me perfectly. We poured a seat and the car fits like a glove.
That took care of two or three weeks of that long eight month winter.
It wasn't until I got to Boise that I really realized just how long that winter was. Driving other people's race cars is a huge honor, but it is also very demanding and stressful. I like to think I have some pretty good tools and techniques for dealing with that stress. And I am also somewhat used to it having driven so many different race cars over the years.  This one was different!
Not only had I dreamed about driving Nitro Funny Cars my whole life, that was one thing, but the thing that proved to be the most stressful was the eight months I had had to think about this job. I had done all my preparation work, I did all my visualizations, all my exercises. I was as prepared as I could possibly be to drive this car for the very first time. But never in my thirty odd year career had I had eight months to think about driving a car. And not just any car, a Nitro Funny Car. This was the real deal.
I'm good at what I do, and I am confident, (unfortunately sometimes that confidence is mistaken for being arrogant, once you get to know me you realize it's not arrogance), but this is the big league now. I am now driving next to and racing against some of the best drivers in the world. I am also driving one of the best cars in the world. Owned by a driver with 42 years experience driving Nitro Funny Cars. this is it, I can either drive or I can't.
I've been given the best equipment, tuned and prepared by the best, running on the best tracks, with the best other drivers. I have no excuses, (not that I use excuses), will I pass or fail? Fail? I don't fail. But what if. . . damn, eight months of "but what if".
Friday morning in Boise was partly cloudy, the plan was that I'd make a half pass to familiarize myself with the car before heading into qualifying on Saturday. Mother nature had other plans, a storm rolled in and put an end to all racing on Friday. I was actually relieved slightly.  I'm not sure why really. I was nervous, yes, but that wasn't it. I think I felt better about being thrown straight into qualifying than actually getting a chance to "practice" first.
Of course Saturday morning was a different story. First run of the season there is always a little trepidation, a little anxiety, not a lot, and once I'm strapped in it all goes away, and once they fire the motor I'm good. I know that. But this first run was different. For all the world to know, I thought I was going to puke all morning, I was just plain nervous, eight months of thinking about it, eight months of preparation, eight months of "but what if". I did all my prep work. I have meditation techniques I use at the track to clear my mind and focus, I was using them all. Once we fired the motor for the warm up I felt much better, but my stomach was still a knot.
There were only six cars there for an eight car field, so whatever I ran I was qualified, that was fine, but we only had two qualifying sessions, and I know Twig had the car setup soft for this first hit. We were also using new tires Twig had never run before. So I wanted to make it count.My instructions from the boss were to drive it as far as I was comfortable. If it felt good drive it all the way out the back door.
So that's what I did.
6.01 at 237 mph. It felt good.
I really do need to update my blog much more often don't I? Sorry, life just gets busy.
I am very active on my Facebook pages though, for regular updates and tidbits friend me and like my fan page.
A couple weeks ago was my first ever race in a Nitro Funny Car.
Back in late September, or early October 2011 my daughter, Casey, texted me to tell me she saw on Facebook that Twig Zeigler is looking for a driver for his car. I was between business meetings at the time and texted her back that I would contact him at the end of the day when I was finished with my meetings.
That thought lasted maybe five minutes at the most. I had met Twig a few times over the years, and watched with envy, (I am not too proud to admit I was envious) while Darin Bay drove for him.  I remember when I discovered Darin was driving the car that I said to myself "I didn't even know he was looking for a driver, I would have loved to drive that car" . I realized I had an opportunity here, and I didn't want to miss it.
I called Twig immediately. Over the next couple weeks I met with Twig, we talked about the schedule and program, he was interviewing other drivers as well. It was a long wait wondering if I got the job. It was October when he called me and said we could work together.  Almost eight months ago.
Eight Months!
That was a long eight months!
Yes, there is plenty of excitement here as I plan for next season driving Twig Zeigler's Nitro Funny Car.
The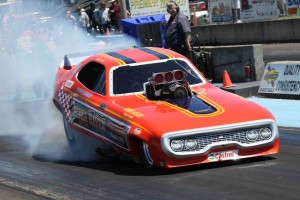 continued support I receive from my existing sponsors and supporters is wonderful, and we have some opportunities to include others into this program.If you want to be a part of this feel free to send me a note at jim@jimobalek.com and we can discuss the opportunities available, and how they can be custom tailored.
In the meantime, over the coming months besides creating and finalizing details for marketing programs I will have the car in the shop freshening it up for next season and tweaking the controls to fit me perfectly. I'll post some photos of the work as it progresses.